Seminar hotel in Klagenfurt | Carinthia | Austria
Our motto? There is no such thing as can't!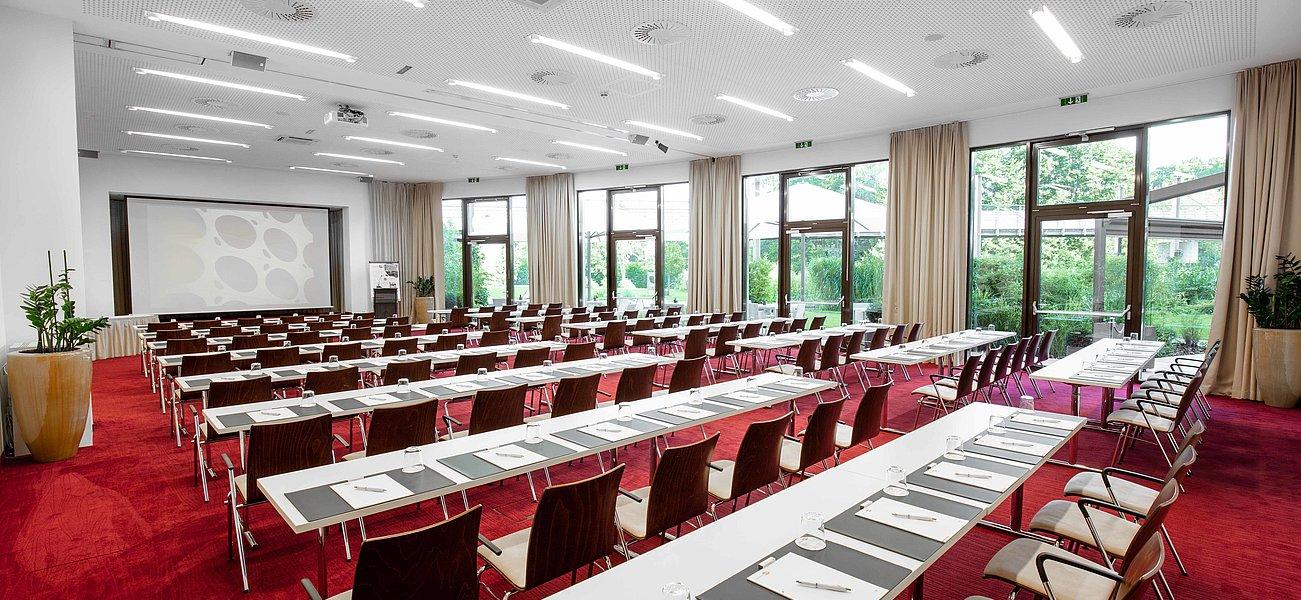 The Seepark Resort – your seminar hotel on the shores of Lake Wörthersee
You are looking for a conference location or meeting room in the region of Carinthia? You need a competent partner for your training event, conference, workshop or seminar? The Seepark Hotel is on your side!
Use our offers for business travellers and make the most of our holistic concept: a successful event, good food, in-depth relaxation and a picturesque setting directly in the Lend lagoon of Lake Wörthersee.
Our motto? There is no such thing as can't! We make your individual wishes come true. As part of the networkCarinthian Convention, we have lots of possibilities to design your events and conferences exactly the way you want them. For our latest offers for your seminar, see here:

Seminar and banquet folder
Send us your inquiry for your event. We have the right location for any event and are looking forward to welcoming you to the Seepark Wörthersee Resort!
Seminars & conferences in Klagenfurt
Keeping our seminar guests happy is our top priority. You have heard this at least 1000 times? In that case, instead of repeating the same old thing, let us tell you a little more about ourselves.
5 seminar rooms for up to 200 attendants
3,000 m² parkland around the hotel
142 rooms
Bespoke packages
Incentive programmes
Festive atmosphere for gala dinners and weddings
We are versatile, flexible and ready for anything at all times! Pay us a visit and find out for yourself.
The conference room "Alpe" is located on the same level as our park and accommodates up to 110 participants on 124m2. The room comes with daylight, air conditioning and direct access to the hotel parkland with a terrace. A stage is also available.
With 98m², the "Adria" conference room offers ample space for events with up to 90 participants. Daylight, state-of-the-art technology and a dedicated banquet terrace with park access complete the offer.
The two rooms "Alpe" and "Adria" may be combined into a single, large function room thanks to a movable divider. When combined, the room accommodates up to 200 attendees on 222m². Participants may expect plenty of daylight, a stage, and state-of-the-art technology. A large foyer right outside the conference room is ideal for receptions or coffee breaks.
The conference room "Carinthia" was added in 2021 and accommodates up to 90 participants on 94m2. Coffee breaks may be held directly in the room. This room is located on the ground floor and comes with floor-length windows and plenty of daylight.
The newly renovated conference room "Europapark" is located on the ground floor of the hotel, offering state-of-the-art technology and ample space for your coffee breaks on 80m². Up to 50 attendees may use this room that comes with plenty of daylight and its own terrace.
You are part of a smaller group of up to 10 participants? Then the Orchid room on the ground floor of the hotel might be the right choice for you. Measuring 23m², this meeting room is located right next to our lobby. You would like to work outside your hotel room? The Orchid room might be the answer, offering everything you need in a quiet atmosphere.
Meetings with a countryside feel: Parkland
The perfect location for team-building: Our parkland offers nothing less. On approximately 3,000m² and located directly in the Lake Wörthersee lagoon, our park affords fantastic views and offers plenty of variety on a day otherwise packed with work and meetings. Here you will find time to relax, maybe with a yoga session or a leisurely walk.
Top-level catering at the Restaurant Laguna
At the Seepark Hotel, we know that your event cannot run on empty! Whether lunch or dinner buffet, a three-course menu at lunchtime or in the evening, we offer the very best selection of regional dishes and culinary delights, devised by our creative head chefs.
A reception with beer and prosecco is included in our exclusive late-night package. An informal get-together is the perfect setting for finger food, which includes hot and cold savoury snacks as well as pastries.
Wellness – regeneration for business travellers
The MOVE & RELAX area in our hotel offers everything you need to switch off and relax. An indoor pool, 25-metre outdoor sports pool, sauna, steam bath, beauty and body treatments, a fitness lounge and personal training invite you to relax. Forget the stressful everyday routine for a while and immerse yourself in the countless possibilities offered by the Seepark Hotel!
We have prepared the most important documents for you to download:
Seminar and banquet folder

But don't believe for a moment that all this is set in stone! We are always up for a challenge and enjoy pushing ourselves to the limit. Our motto? There is no such thing as can't! If it is at all possible, we'll make it happen.

Send your inquiry for your event now!
For further information please contact:
events@seeparkhotel.at
+43 463 20 44 99 0
Business hotel – the best offers
The Seepark Wörthersee Resort is located directly in the Lend lagoon of Lake Wörthersee, just a few minutes from Klagenfurt. The perfect location for successful events. From seminar to banquet – we keep things running smoothly and efficiently.
Lights off, beamer on: We offer state-of-the-art conference technology to ensure that all eyes are on your presentation. Daylight, notepads and pens are included. You have special requests that need taking care of? We will do our very best to make your event a resounding success.
Business travellers enjoy one-of-a-kind comfort at the Seepark Wörthersee Resort. What to expect: a quiet yet central location, professional yet personal service, a multi-faceted culinary offer, and our MOVE & RELAX area – the perfect stress buster. The rooms and suites in the Seepark Hotel are modern in design and come with top-level fittings. In addition to the conference and seminar rooms, business travellers enjoy an excellent Internet connection, premium catering, free parking, plenty of space for working, and of course room service. The train station and the centre of Klagenfurt are just a short car ride away.
What makes us so special
Our MOVE & RELAX philosophy is based on a balanced interplay of exercise (MOVE) and regeneration (RELAX), combined with a healthy diet (EAT) – the perfect combination to ensure a lasting sense of well-being. We also apply this concept to our seminars and have developed a range of dedicated offers. The goal is to maximise productivity through healthy eating and active regeneration.