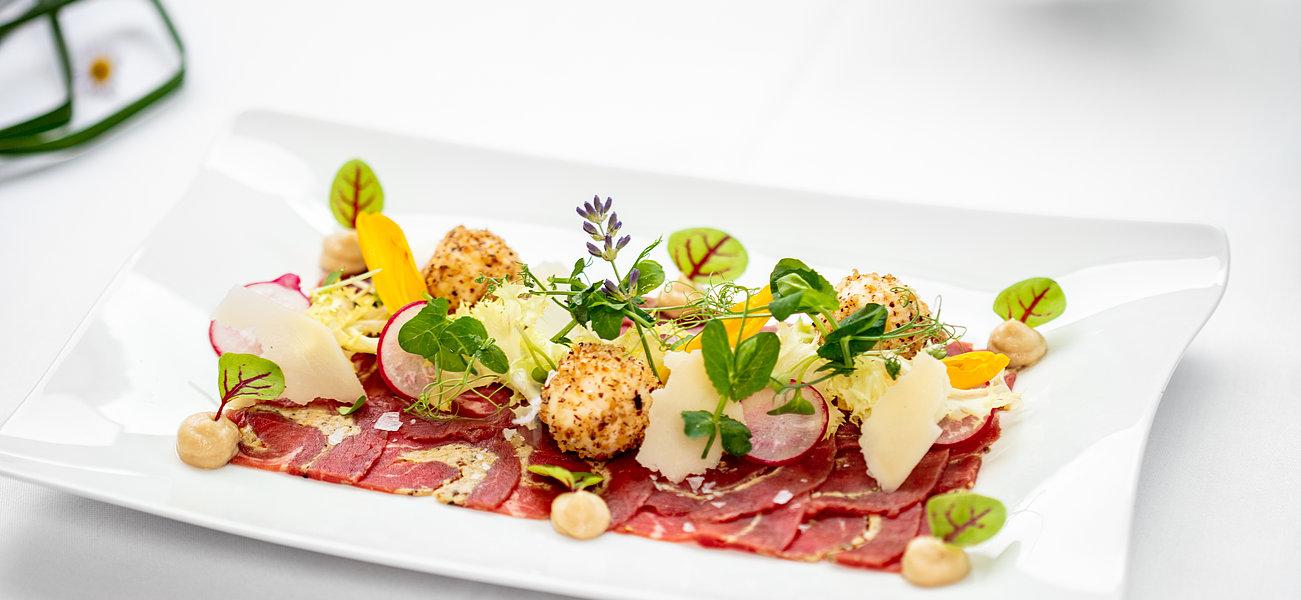 We'll admit it. We like the classics. We simply couldn't do without a Wiener Schnitzel with crispy crumb or Carinthian-style Kasnudeln. And we also like chalking up the modern classics of international cuisine on the menu, because otherwise they wouldn't have become classics: Caesar salad and Angus steaks are simply amazing.
But in spite of the regular highlights, we change up our menu in cycles and there is a new menu in the Laguna restaurant three to four times a year. We are not only inspired by international customs; we also cast an eye around the local Carinthian countryside. It's from there that we pluck wild garlic or fish a salmon trout out of the lake, which we marinade and cook to perfection before it ends its journey on the dinner table. That's just how it goes!

That's why we suggest you try dining at our place. We take care of the ambience in our Laguna restaurant, so you just need to bring a good mood and, of course, a big appetite.
Find our current menus here:

Menus

Would you like to reserve a table in our restaurant?
Do it here in just a few clicks:
What begins with a delicious starter can only be promising. That's why we suggest you dine with us for once. We have already prepared a nice atmosphere in our restaurant Laguna, now you just have to bring along a good mood and of course the appetite. Then follows our performance: we serve 4 courses and you enjoy. You are only spoilt for choice with the main course - there are 3 different variations waiting for you.

Bookable daily with prior reservation. There are also single days selectable. So that you remain flexible during your holiday.

PRICES 2023:
EUR 40.00 per person per day for dinner.
EUR 63.00 per person per day for breakfast and dinner (half board).
If booked in advance (when reserving a room) we offer half board for EUR 56.00 per person per day.