Holiday at Lake Wörthersee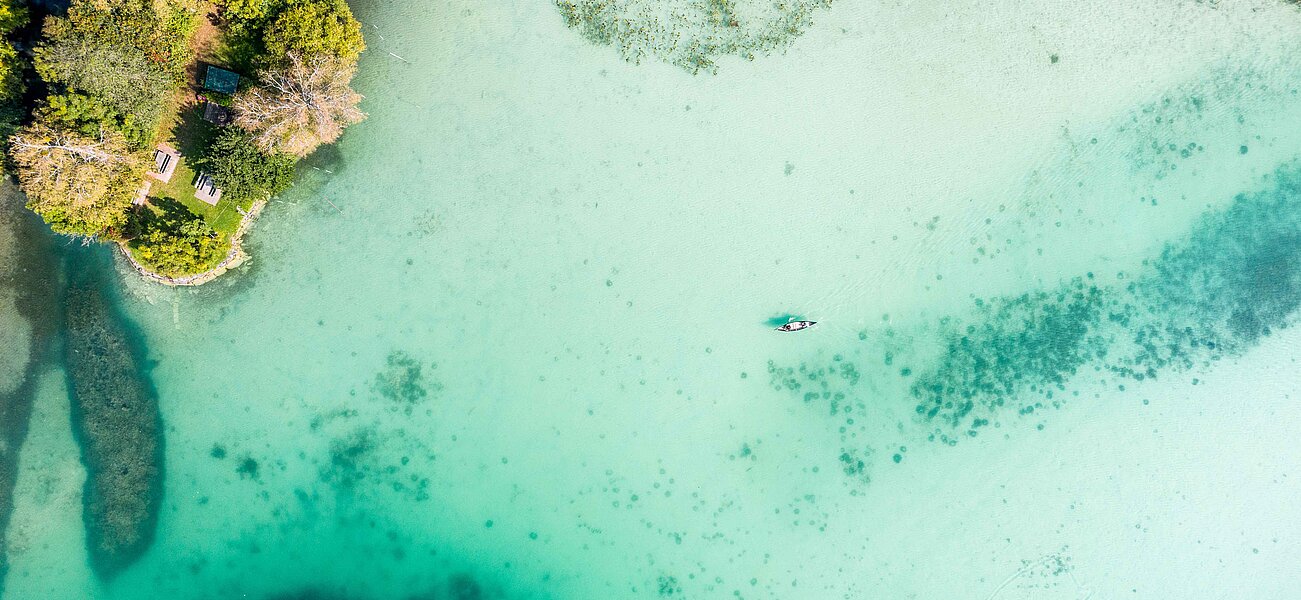 Lake Wörthersee – the perfect region for the holiday of your dreams
The Lake Wörthersee region is located at the heart of Carinthia, Austria's southernmost province. Not far from the Slovenian and Italian borders lies Carinthia's largest lake, between Velden and Klagenfurt. Glittering, crystal-clear water, a Mediterranean climate, and a stunning Alpine panorama: Expect all that and more during your holiday in the region.
Large choice of destinations: The lake spans a distance of 16.5 kilometres from west to east, promising the right sort of activity for all tastes. Splashing in the lake, relaxing on the beach, or out and about on various adventures – Lake Wörthersee offers a picturesque setting as well as unique opportunities for outdoor exercise.
The lake also has an excellent infrastructure and is easy to reach from anywhere in the world. Klagenfurt Airport is just a 13-minute taxi ride away, and travelling by train is equally straightforward, with Klagenfurt main station and Bahnhof West being located in the immediate vicinity of the hotel. Enjoy the feeling of flexibility as well as the glorious views from the train window! Then of course there are the Gloßglockner Hochalpenstraße and the Nockalmstraße roads: Take a small detour and turn your journey by car or motorcycle into a unique experience.
Stunning scenery and beautiful day trip destinations as far as the eye can see. We guarantee that Lake Wörthersee and its region are truly unique and among Austria's most versatile holiday destinations. So what better place to spend your holiday? Benefit from the unique location of the Seepark Wörthersee Resort! Just a five-minute walk separates you from Lake Wörthersee, and the city of Klagenfurt is just around the corner.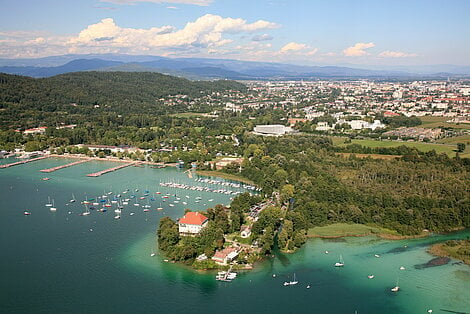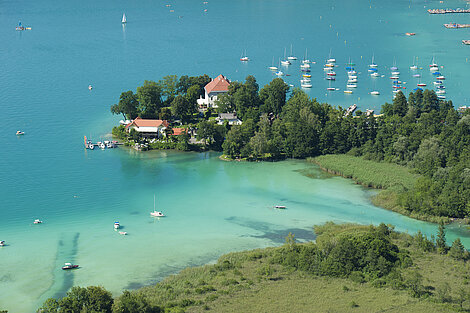 Attractions around Lake Wörthersee
In summer, the lake frequently reaches temperatures of up to 28 degrees. In winter, it is surrounded by snow-tipped mountains. The region around Lake Wörthersee offers unrivalled variety.
Carinthia has a vast range of beautiful swimming lakes. In addition to Carinthia's largest lake – Lake Wörthersee – lesser-known lakes such as Lake Rauschelesee or Lake Keutschacher See also beckon. Lake Hafnersee and Lake Baßgeigensee offer a versatile, unique natural setting.
Lake Wörthersee is up to 1.600 metres wide and has a sheer unlimited amount of activities on offer:
Explore the lake by motorboat or pedal boat
Wakeboarding & water skiing
Windsurfing & sailing
A ride on the banana boat
Lidos & beaches for swimming and sunbathing
Historic villas and boathouses waiting to be discovered
Flower Island and Kapuziner Island
There are also plenty of attractions to visit around the lake and throughout the federal province of Carinthia – for a tailor-made holiday that matches your preferences exactly. Discover a multi-faceted recreational programme! We are happy to share our best tips for day trips and activities:
Walks along the lakeshore
A visit to Pyramidenkogel
Minimundus miniature park
Schloss Maria Loretto
Escape Room
Open-air museum Maria Saal
E-bike trips
Landskron castle
Lindwurm fountain
Monkey Mountain in Landskron
Wörtherseemandl fountain
Skiing for all skill levels on Gerlitzen Alpe
Don't miss out on a visit to the picturesque towns of Klagenfurt, Pörtschach, Reifnitz or Velden, where there is lots to see and discover. And the best thing about it: All these attractions are within easy reach of our hotel, either by train, bus, boat, or car.
Klagenfurt is the capital of the province of Carinthia and offers its visitors an extensive range of attractions, from culture to nature and everything in between. Discover this beautiful city and its surroundings while spending your main holiday or a mini break at the Seepark Wörthersee Resort.
City travellers, gourmets, and athletes: Klagenfurt is a multi-faceted destination that caters to all tastes. The Museum of Modern Art, Klagenfurt Cathedral, the famous "Landhaus" (regional parliament), the Happ reptile zoo... Klagenfurt has the perfect blend of culture and adventure. Enjoy a stroll or shopping spree through the historic Old Town and replenish your batteries in one of the many restaurants and cafés. Mingle with the locals during a performance at the Stadttheater Klagenfurt or walk along the romantic Lendkanal that leads directly to the eastern bay of Lake Wörthersee.
The forest rope garden on the Niedere Gloriette near Pörtschach offers spectacular views. Discover the popular lakeside promenade or take a trip to Kapuziner Island right at the centre of the lake.
Reifnitz is also located directly on the lake and therefore a popular daytrip destination. The town is best known for the Pyramidenkogel in its immediate vicinity. On the 850-metre mountain stands the world's largest wooden observation tower, opening up gorgeous vistas of Lake Wörthersee and the surrounding region. Reifnitz also makes a great base for exploring Lake Rauschelesee and Lake Keutschacher See, ideally by bicycle.
The picturesque town of Velden. is located on the western tip of Lake Wörthersee. The famous lido invites visitors to swim and sunbathe, or to simply enjoy a stroll along the lakeshore. Of course, there is also the option of trying your luck at the casino!
The Wörthersee Plus Card offers many discounts, making for an action-packed holiday at Lake Wörthersee, in Klagenfurt and in the region of Central Carinthia. Save up to 50 percent on sights and attractions and discover everything Lake Wörthersee and the surrounding area have to offer.
Boredom doesn't stand a chance here: Get your Wörthersee Plus Card at the Seepark Wörthersee Resorts reception and look forward to lots of new adventures!
Lake Wörthersee awaits with a great number of adventures and attractions, whether in summer, autumn, winter or spring: There is always something to see and do! Lake Wörthersee also hosts numerous events that make it a great holiday destination for all age groups. Book your holiday in "Austria's Caribbean" now and start looking forward to great events on the shores of Lake Wörthersee:
Programme along Velden promenade
Night of the Stars on Lake Wörthersee
Reifnitz open-air concerts
Wörthersee "Wandertag" (hiking event)
Christmas and Advent markets in Carinthia
Fireworks on New Year's Eve
Ironman
Fete Blanche
Pink Lake Festival
How large is Lake Wörthersee?
Lake Wörthersee is the largest lake in the province of Carinthia and stretches from Velden all the way to Klagenfurt. The region is famous for its mild, Mediterranean-style climate and wonderful Alpine panoramas. Facts and figures on Lake Wörthersee:
Length: approx. 16.5 km
Width: 2 km
Surface area: 19.39 km²
Maximum depth: 85 m
What does Carinthia have to offer?
Carinthia offers its visitors one thing in particular: versatility. You are looking for a place to relax, for spectacular adventures, and for new discoveries? Then the Seepark is exactly the right destination for your next trip to Austria's south.
We are located directly on the shore of Lake Wörthersee, in an easy-to-reach location. Carinthia stands out for its proximity to Italy, its fantastic views, and a climate that invites you to take a holiday at any time of year. Boredom has no place here: We have the right programme for all tastes. Relaxing, indulging, hiking, cycling: Carinthia is the perfect destination for your next holiday.
Which places around Lake Wörthersee are particularly attractive?
With its turquoise-blue waters, Lake Wörthersee always stands out for its natural beauty, from any angle. We are not exaggerating! On both sides of the lakeshore, picturesque spots are waiting to be discovered. Among the most stunning are:
Klagenfurt
Reifnitz
Pörtschach
Velden
Maria Wörth
Moosburg