Breakfast in Klagenfurt am Wörthersee
a good start into the day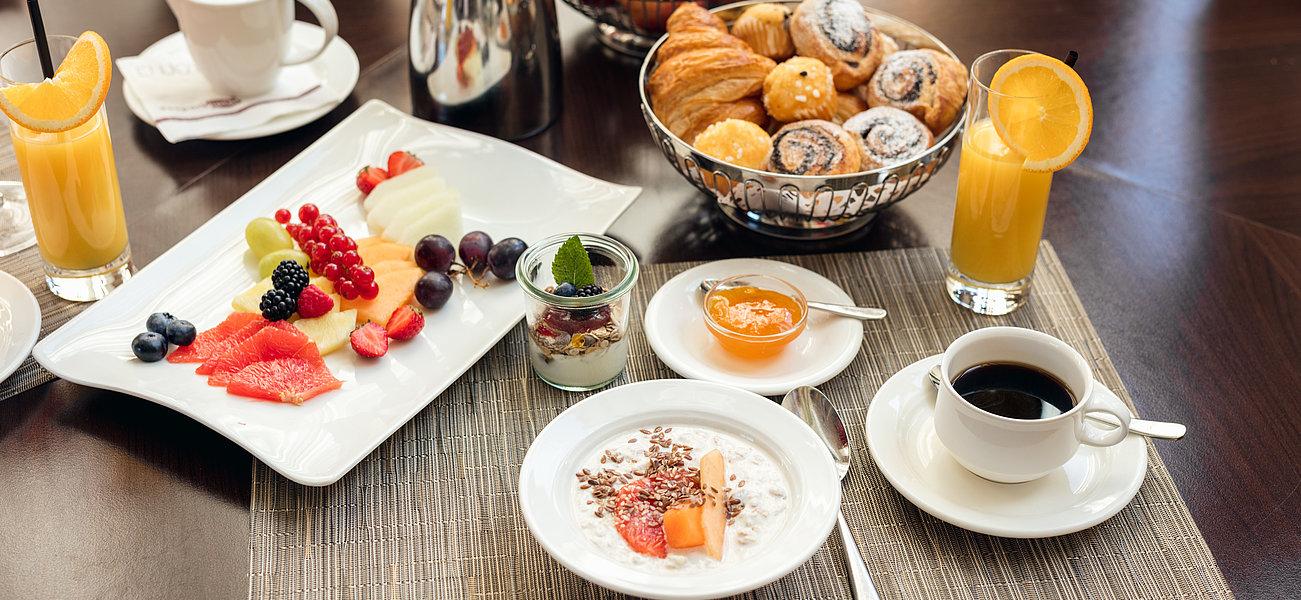 Lake Wörthersee sends its greetings
You'll be dreaming of our breakfast in the night because it has everything that it should. Don't believe us? Then find out for yourself! Whether you're looking for a light bite or something heartier to start the day, we have just the thing. Are you going to a conference? A seminar? A workshop? Is it a bike trip or even the Ironman? The breakfast in our restaurant, located in Klagenfurt right beside the peaceful lagoon, wakes up even the most sleepy of spirits and wishes you a "schenen Tog", which is Carinthian for "have a good day"! Because like so often, we also think that what makes a breakfast good is the variety. Warm or cold, crispy and crunchy, smoked or pickled, everyone will find that something that they need to start the day right.

Breakfast: daily from 06.30 am to 10.30 am
Price for hotel guests: EUR 23.00
External breakfast guests: EUR 25.00

Book your table online!
What works especially well in our breakfast mix is the good old Carinthian corner. We asked around the local farmers, what their top specialities are. Now we have the famous Glundner Kas (a pre-boiled cheese which is eaten with caraway seeds), an authentic Carinthian bees honey, the hearty Carinthian Reindling, and Castello, the Carinthian version of Prosciutto, all waiting to remind you just what part of Austria you woke up in!
The classic in Klagenfurt
We have a soft spot for the classics – and it has nothing to do with music. No, we're talking about the jewel in our crown (breakfast!). With scrambled egg, smoked salmon, vibrant fruits and freshly-pressed orange juice, we have all the essentials, without forgetting any of the details such as green cress, cottage cheese or velvety smooth brie.