SUP - Stand Up Paddling in Klagenfurt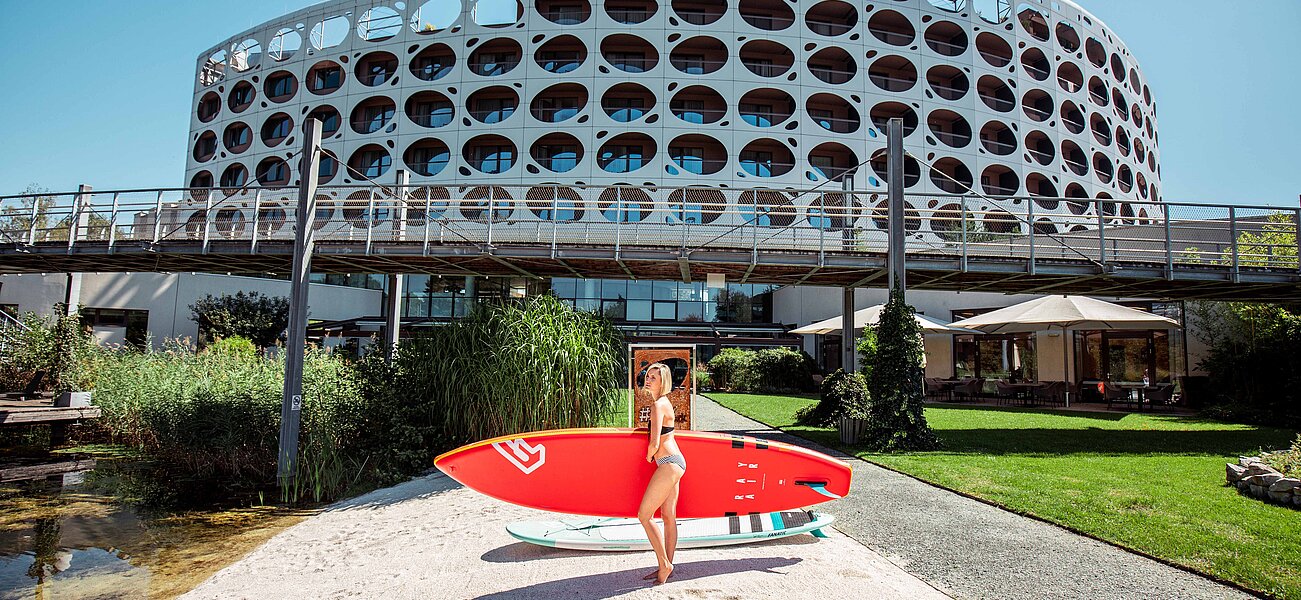 Stand-up paddling at Lake Wörthersee
Stand-up paddling has become a summer holiday fixture in recent years. This is a board to have fun with, and a great way to explore Lake Wörthersee, both for beginners and old hands. And if you get too hot baking in the sun, jump off the board for a refreshing dip!

Stand-up paddling is a trend sport that suits adventurers just as much as those in search of relaxation. Finding your balance is what stand-up paddling is all about, both physically and mentally. Legs, arms, core: Stand-up paddling is a great way to improve your overall fitness and centre your thoughts at the same time.

At the Seepark Wörthersee Resort, SUPs are available for rent from May until late September. Our SUP station is open from 10am until 6pm every day during July and August. During the remaining months, SUPs are also available for rent – just ask us directly! The rental station is located in our resort at the Lend lagoon near Klagenfurt. Don't hesitate to contact us for more information.
A summer holiday with a SUP
What's an even better place to spend the summer than on the beaches of Lake Wörthersee? The answer is simple: On the water! With an SUP, you are free to explore the most picturesque corners around Klagenfurt. The crystal-clear lake and its natural setting are predestined for a stand-up paddling tour, for instance along the southern lakeshore, or heading north from Klagenfurt.
A far cry from the daily grind, you are free to focus on the beautiful scenery and on your inner balance. This glorious natural setting shows itself to its best advantage when admired from the lake. In summer, the lake frequently reaches temperatures of up to 28 degrees. Dangle your feet in its turquoise-blue waters and listen to the gently lapping waves.
The Seepark Wörthersee Resort offers personal training on the SUP: Learn SUP basics for beginners:
For 1.5 hours: price upon request.
Improve SUP technique for advanced: Duration 1.5 hours: price upon request
SUP Yoga or SUP Fit are also available on request.
Tips for your stand-up paddling tour
Discover the glorious setting of Lake Wörthersee and its surroundings by SUP! Leave the stress of the daily routine far behind and discover the untouched natural beauty of Austria. Observe fish, water plants, and many more things that Mother Nature presents us with. See below for some tips for your stand-up paddling tour:
Start at the Lend canal
Go past the Strandbad Maiernigg to the "Schwarzer Felsen",
Continue towards Krumpendorf.
From there, head east along the northern shore back towards Klagenfurt
Duration: approx. 1h.
Lend canal, lagoon & idyllic bays
Alternatively, there is a beautiful route that takes you along the southern shore of Lake Wörthersee towards Walterskirchen in the west. Turn round in this picturesque bay and return past Krumpendorf, Bad Stich and Parkbad Krumpendorf before returning to the Strandbad Maria-Loretto and the Lend canal.
Discover the lake outside the summer months
Explore the tranquil waters, bask in the beautiful scenery. Mild autumn days, frosty winter mornings, or the first tentative days of spring: SUP tours on Lake Wörthersee are possible all year round and start right here at the resort.
Our offer for hotel guests:
Canoe per hour, including life jackets: upon request
1.5h SUP incl. drysuit, neoprene shoes, life jacket: upon request (only for experienced stand-up paddlers)
1.5h SUP with instructor, incl. drysuit, neoprene shoes and life jacket: upon request
You can book our offers directly at reception.