Yoga holiday in Carinthia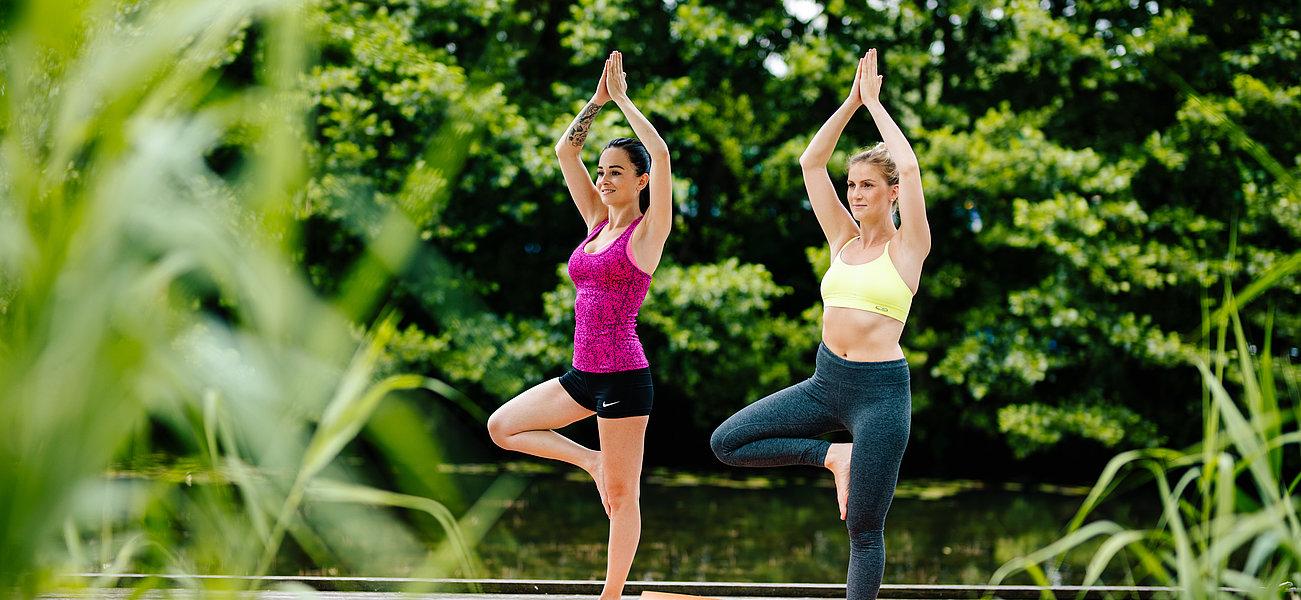 A yoga holiday on the shores of Lake Wörthersee
Does the everyday routine stress you out? Being available around the clock has become the norm? You are looking for a way to regain your inner balance? Carinthia and the Lake Wörthersee region offer everything you need to restore harmony between body, mind, and soul. Located right at the water's edge, the Seepark offers a picturesque setting that invites you to unwind and to daydream.
Gentle yoga vibes will free and settle the mind. At the same time, yoga is a form of exercise that greatly benefits physical mobility. You will engage intensely with your breathing, thus building up a connection with your inner core.
Happiness is a question of balance: Use your stay in our 4-star hotel to unwind and find inner peace. Take this opportunity for a personal time-out and a moment of in-depth relaxation at the Seepark Wörthersee Resort and let nature do the rest.
A beautiful park-like setting that soothes the soul
An oasis of relaxation: On an impressive 3.000 sqm, the hotel's parkland invites you to discover its special hideaways, made for relaxation and indulgence. In this setting, everyone will find the right place for replenishing flagging energy levels.
Water features and herb gardens give this park its inimitable flair that is reminiscent of a piece of Italy. In spring, summer, and in the golden days of autumn, the park is perfect for your yoga exercises.
Balance & health at the Seepark Wörthersee Resort
The 4-star hotel Seepark is located in the immediate vicinity of Lake Wörthersee. Relaxation is what we're all about, and the resort offers many opportunities for enjoying its splendid natural setting.
The tree, the dog, the cobra – use this space to perfect your favourite yoga poses, achieve a balance between body and mind, and breathe deeply and freely. Whether in the parkland or the 900 square metre Move & Relax area: Peace and relaxation come in many forms at the Seepark Wörthersee Resort, and we offer everything you need to make the most of them. Yoga mats are available at the reception of the wellness area all year round.
The Restaurant Laguna makes a perfect counterbalance to your yoga holiday in Austria, serving regional specialties and freshly prepared creations. A balanced menu and a sumptuous breakfast buffet are the cornerstones of the Move & Relax concept and perfect for keeping up your strength after athletic feats.
After a session on the yoga mat, you may use the entire MOVE & RELAX area on a surface of 1600 sqm offering a wide range of facilities such as a sauna, heated indoor pool, 25 m outdoor pool and quiet areas.