Hiking holiday in Carinthia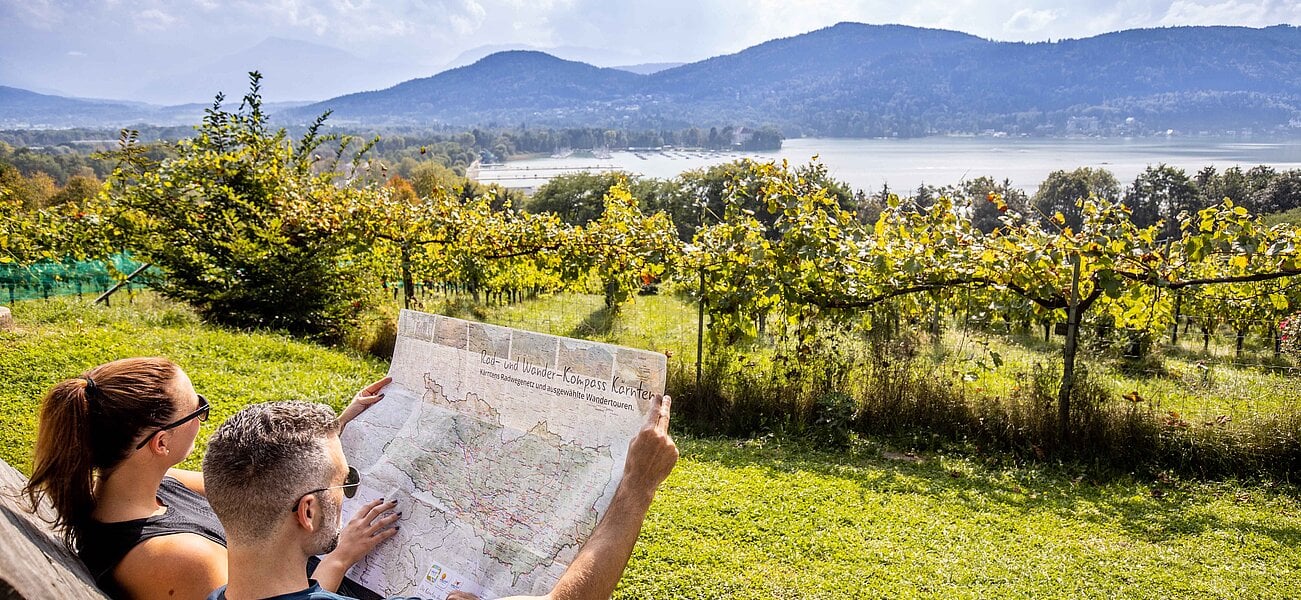 Hiking holidays on the shores of Lake Wörthersee
Hills, mountain peaks, and Lake Wörthersee invite you to hike, stroll, enjoy. The Austrian province of Carinthia harbours many attractions that are best explored on foot. Lush forests, lakeside promenades, summits just waiting to be conquered... this is where hiking becomes an adventure!
From Lake Wörthersee to the Old Town
Wörthersee Rundwanderweg
Kreuzbergl Wandertour
From the Europapark to Krumpendorf
Trail walk through the Klagenfurter vineyard to Pörtschach
Leisure hiking in Carinthia
The natural setting of Carinthia was made for unwinding. Here, in Austria's sunny south, is the perfect place for enjoying nature with all the senses. If the great outdoors is your thing, Carinthia is the place for you.
The region around Lake Wörthersee abounds with mountain peaks of varying levels of difficulty, with something for every taste and level of fitness. From short strolls to extensive tours, hiking in Austria guarantees moments of unadulterated bliss. Prepare to be enchanted by this magical setting!
Wörthersee Rundwanderweg (round tour)
On 62 kilometres, the classic Wörthersee round tour takes you all the way round Carinthia's most popular lake in four stages. Hiking in the glorious light of the south: That's what this route is all about. Enjoy its unique natural setting from April until the end of the year. At the end of each stage, take a dip in the lake to cool down!
Wörthersee Sonnenwanderung (solstice hike)
The Wörthersee Sonnenwanderung is all about adventure. This is one of Austria's most popular hiking events where a group of Wörthersee enthusiasts walks towards the rising sun in the night from Saturday to Sunday during the period of the summer solstice.
The hike takes place over 31km on two routes, the Wörthersee Rundwanderweg and the Wörthersee Halbdistanz, and offers an exciting programme on top of the hiking itself:
Spectacular fire show
Druids' potion from a copper cauldron near the Schlosshotel Velden
Sunrise from the Pyramidenkogel viewing platform
Dip in the lake
Energy session with DJ in Pirk
The golden days of autumn - perfect for hiking
Lake Wörthersee is known for its golden autumn days. During the Indian summer, you can enjoy the free programme and golden sunlight for four weeks. From 30th of September until 1st of November, Lake Wörthersee shows itself from its calm, tranquil side that is highly attractive to visitors.
With the Wörthersee Plus Card, you can join guided, free hikes during this period – always from Wednesday to Sunday and with certified hiking guides. Four easy leisure hikes are on offer, as well as an alpine route on the Dobratsch.
Visit the Seepark Wörthersee Resort and enjoy the golden days of autumn in a region that was made for hiking!