Hotel with free parking and e charging station in Klagenfurt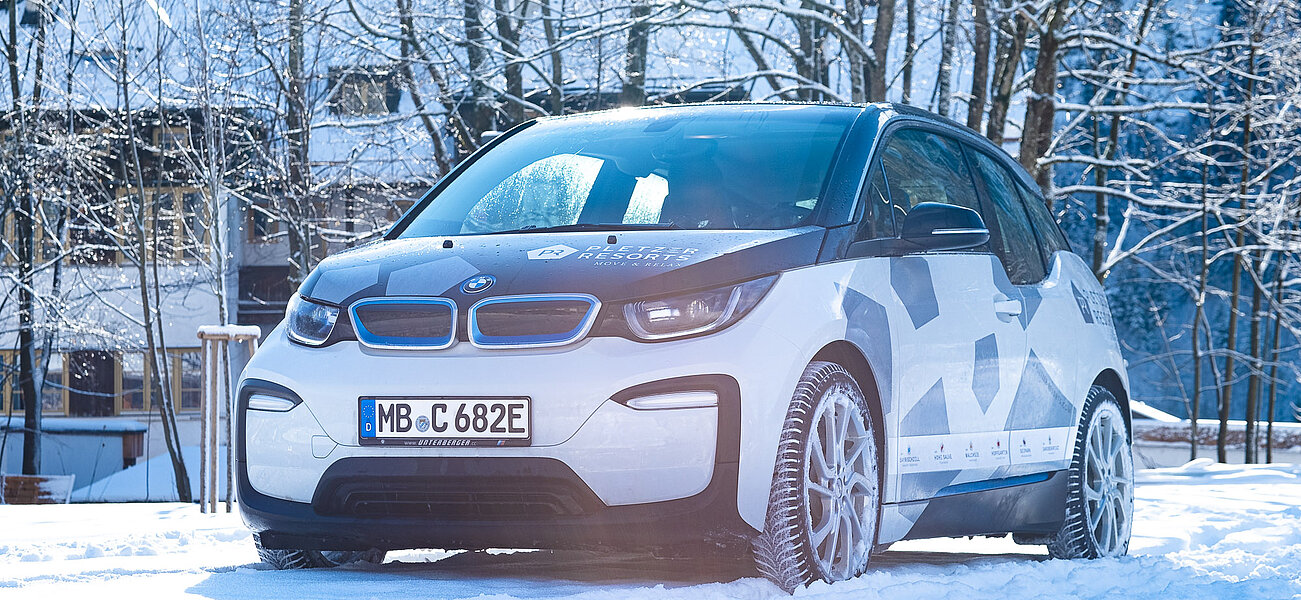 You would like to arrive by electric car? Not only the beautiful environment of Carinthia is happy, but also us. Because if you're going on vacation with an electric car, you've come to the right place at Seepark Wörthersee Resort. From regional dishes to e-bikes or sustainable products in our MOVE & RELAX area - our 4-star hotel focuses on sustainability.
Hotel guests who visit us by e-car can charge their vehicle in a very comfortable and environmentally friendly way at the electric charging station from the external provider smatrics in the garage for anextra fee. While the car recharges its reserves, you can also recharge your batteries: for example, with a relaxing massage in our RELAX area, with a round of yoga in the hotel's own park or with an eventful swimming trip to Lake Wörthersee, which is located in the immediate vicinity of the hotel.
Charging station for electric cars in Carinthia
Whether for a wellness weekend, the family outing or the extensive summer vacation: At Seepark Wörthersee Resort you are offered a fancy package of variety around the clock. Thanks to our e-car charging stations, you can reach the most popular excursiondestinations and sights in the Klagenfurt area as well as in the Carinthia vacation region quickly, conveniently, safely and at the same time in an environmentally friendly manner.
1x Tesla Destination Charger in our garage: : 1 charging station for Tesla vehicles with excellent charging performance (in our garage)
2x SMATRICS charging station for e-cars in our garage: All electric vehicles can be refueled at the modern charging station. The charging process and billing are handled by SMATRICS. Billing is per charging minute. The cable must be unplugged at the end of the charging process; if it remains plugged in, you will continue to be charged. (in the garage).3This is because the Type 2 charging plug has become established in Europe and is supported by all major car manufacturers (in our garage)
3x SMATRICS charging station: In the outdoor area you will find 3 Smatrics charging stations with easy handling. The charging process and billing is done by SMATRICS. Billing is per charging minute. The cable must be unplugged at the end of the charging process, if it remains plugged in, you will continue to be charged.
Easy arrival: Our hotel is easily accessible via the surrounding A2 freeway and scores with immediate proximity to the city center of Klagenfurt.
Business & seminar hotel: You are a business traveler with an electric car in Austria? Then our 4-star hotel is the ideal destination.
Fully recharged again - relaxing vacation in Klagenfurt
With us you can recharge your batteries, relax and unwind from everyday life! At Seepark Wörthersee Resort in Austria, exercise and relaxation come together in an interesting mix:
While you enjoy your time in the spacious MOVE & RELAX area, your electric vehicle recharges fully at the matching charging station. And if you want to enjoy a coffee on our sun terrace, your car is safe and cool in our hotel's own underground parking garage. Why not enjoy an excursion with the Wörthersee boat trip - afterwards your e-car is fully refueled and ready for the next eventful excursion.
In harmony with nature
We love the beautiful environment of Carinthia and are proud to be a part of it. Therefore, we would like to protect the environment. Whether by train, bus or electric car ... we are happy about every guest who travels sustainably. And we would like to reward that: For example, with enough charging possibilities for Tesla and all other electric vehicles when booking an underground parking space as a hotel guest.
Emission-free e-cars are a good fit for Carinthia and for us: because we focus on the topics of regionality and sustainability. Not only in the area of charging stations, but also in energy production or in the selection of our food.
In addition, e-cars have the great advantage that they don't have to make a special trip to the nearest gas station: For example, electric vehicles can be conveniently charged at your own front door - or at our hotel. We are looking forward to your visit!